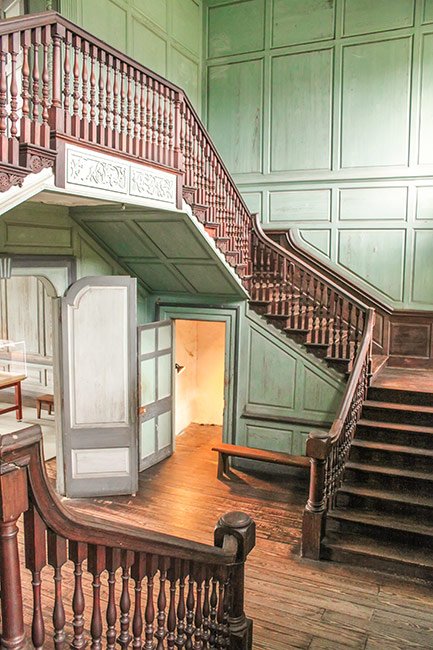 Built in 1738, Drayton Hall plantation is located on the Ashley River about 15 miles outside of downtown Charleston. It is one of the best and most preserved examples of Georgian-Palladian architecture in the United States. Drayton Hall is the only plantation house in the country to have survived the Revolutionary War as well as the Civil War.
 While at Drayton Hall, guests will participate in a one-hour guided house tour led by a professionally trained historic interpreter. The tour will take guests through the main floor of the house as well as the cellar, all while exploring the history of Drayton Hall and those who labored and lived on the property.  Guests will also have the opportunity to explore the grounds and galleries and see a variety of significant and historical aspects of Drayton Hall's past such as furniture, artwork, manuscripts and botanical plantings based on Drayton family documents.
Guests will have the opportunity to ask the interpreter any questions designated to the history of Drayton Hall after the tour. Time will be given to explore the gift shop at Drayton Hall as well. Transportation is provided in a climate-controlled vehicle. All tours depart from the Charleston Visitors Center at 375 Meeting Street, Charleston, SC 29403. Drayton Hall is not open on Tuesdays. The dates and times for the Drayton Hall Tour are as follows:
Wednesday-Monday Mornings
8:30 am – Downtown Charleston Departure
8:45 am – Arrival at Drayton Hall
9:00 am – 10:00 am Signature House Tour
10:00 am -11:30 am–Self-Guided Grounds & Galleries
11:30 am -Departure from Drayton Hall
12:00pm-Drop off in downtown Charleston.
Wednesday-Monday Afternoons
12:30 pm – Downtown Charleston departure
12:55 pm-Arrival at Drayton Hall
1:00 pm – 2:30 pm -Self-Guided Grounds & Galleries
2:30 pm – 3:30 pm-Small Group Signature Tour
3:30 pm – Departure from Drayton Hall
4:00pm-Return to downtown Charleston
Tour is $100 per person

Tour Length for the morning: 3 hours 45 minutes.

Tour length for the afternoon: 3.5 hours

We request that our guests arrive at the Visitors Center 15 minutes prior to departure time.

Drayton Hall is not open on Tuesdays. The tour needs at least two guests total for the tour to run.
Book Tour